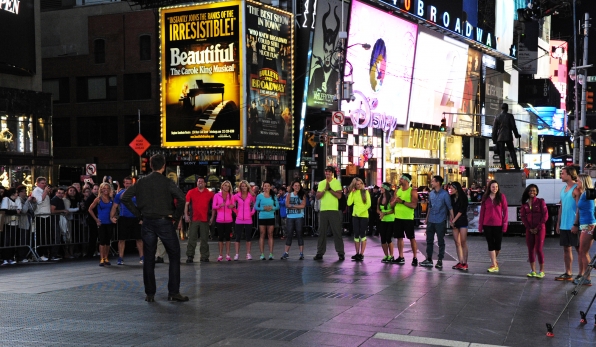 Even though the new season of "The Amazing Race" doesn't premiere until September, CBS has already revealed the identities of the 11 teams competing for the $1 million. The reason they're announcing the cast this early is because the teams started racing in Times Square yesterday. Rather then let the cast leak out, CBS decided to beat everyone to the punch by revealing the teams on the first day of filming. The new teams consist of dating pro wrestlers, food scientists, firefighters, pro surfer Bethany Hamilton and "Survivor" alums and engaged couple Keith Tollefson and Whitney Duncan. Detailed bios and pics are not yet up on CBS's website, but here's the 11 teams along with their occupations and hometowns...
Bethany Hamilton and Adam Dirks: Married Surfers from Princeville, Hawaii
Kym Perfetto and Alli Forsythe: Urban Bike Racers from Brooklyn, N.Y.
Amy DeJong and Maya Warren: Food Scientists from Madison, Wisc.
Lisa and Michelle Thomson: Realtor Sisters from Miami, Fla.
Michael Ward and Scott Strazzullo: Firefighters from Boston, Mass.
Brooke Adams and Robbie E. Strauss: Dating Pro Wrestlers from Houston, Texas and Woodbridge, NJ
Tim Tsao and Te Jay McGrath: College Sweethearts from Pasadena, Calif.
Isabelle Du and Dennis Hour: Model and Accountant, respectively, from Tustin, Calif.
Keith Tollefson and Whitney Duncan: Engaged Couple from Nashville, Tenn.
Misti and Jim Raman: Married Dentists from Columbia, S.C.
Shelley and Nici Porter: Mother/Daughter from Detroit, Mich.